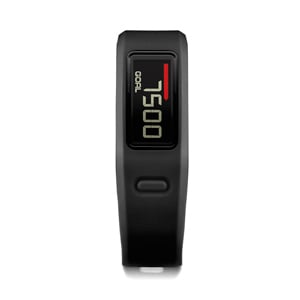 1.
Garmin Vivofit
- I've mentioned this in passing in a few posts. It is the pedometer/watch/activity monitor I've been wearing for a couple weeks. It is working well for me. Little red bars start advancing across the top if I sit still too long. There is one button to flip through data-- time, date, steps so far that day, steps to the goal, miles that day, and calories burned. It also has a sleep mode that you click to at night and it monitors how much sleep you are getting and how much you're moving around in the night.
I haven't worn a watch in years, but like having one on again. I do think it is working for me. I look at it often and think about how I'm doing against my personal goal of 10,000 steps per day. It actually starts off around 7500 as its goal for me, but as you use it it adapts up or down based on your average so the goal it gives you is still a stretch, but not wildly outside the range of what you're doing. It syncs with a smart phone or computer easily and links to the My Fitness Pal ap so if you're properly adding in your food you have both working together to give you an idea of your intake/use of calories in a day.
Mostly, I move more in those down times where I would be watching my kids bathe, or put away laundry or whatever. I pace, jog in place, keep putting things away as inefficiency as possible, etc...I've made my 10K almost every day. Sometimes this has meant jogging a small loop within sight of my front door or passing my mother's porch for 20 minutes at 11pm. I do the steps along with my daily 30 min of exercise so on days when my exercise is, say yoga, where I don't take many steps I then need to find the steps elsewhere in the day. Granted I am doing more cardio and probably less strength/stretching than before, but I'm trying to keep both in the plan as my body needs both from me. Anyway, a long review but in short something to consider if you're looking to move more.
2. Makrut Lime Sea Salt - the newest salt blend from Savory Spice Shop. I love the hint of lime when I sprinkle it on salads, mexican food, margaritas, popcorn, tomatoes, or whatever. It was just officially released this week, but pick some up if you can (preferably at Savory Spice OKC - 44th & Western in OKC or call 405-525-9119 and they will ship you some!)
3. Blogger to Read: Kelly Wickham - I've read
this post
a few times and it pushes me mentally and hurts a little, but feels so necessary. I'm not sure what my next step is, but my first is sharing it with you so you're thinking too and hopefully together we'll help.
4.
54 Things You Never Knew about Frozen
-- Ok, quite the transition, right? But a fun and surprising list.
5.
Toy and Action Figure Museum
- Pauls Valley, OK - The World's first museum devoted to the art and sculpting of action figures. We are finally going this weekend. I think we've driven past the sign 100 times and said, "hey, we should go to that." We are finally going and I think it will be great fun. Also on our prospective museum lists for the year: Garold Wayne Interactive Zoological Park (maybe also this weekend), Banjo Museum, OK History Museum, Cowboy & Western Heritage Museum, Gilcrease Museum, and Jenks Aquarium. Any others (in Oklahoma or elsewhere) that you'd recommend for our family with kids aged 7-2? We have, of course, done the other main ones in the OKC metro and are open to new ideas.